Admin portal version 1.23 or higher.
Quick navigation: Data management > Devices > Select Device > General Information tab
Locking and unlocking of the device can be performed by the option in device detail. When locked, the device cannot be accessed by users on SFI - to prevent changes to be made on SFI. If there is any user logged in during the locking process, this user is forced to leave the SFI application. To enable users to work with the SFI, the device must be unlocked.
Note: The locking and unlocking of a device can only be performed when the device is online and in contact with the Admin portal. The operation might take a few seconds to finish. During that time the status of the device will change to Waiting for lock. The status of a device can be found at the bottom of the page under Device Information at the General information tab.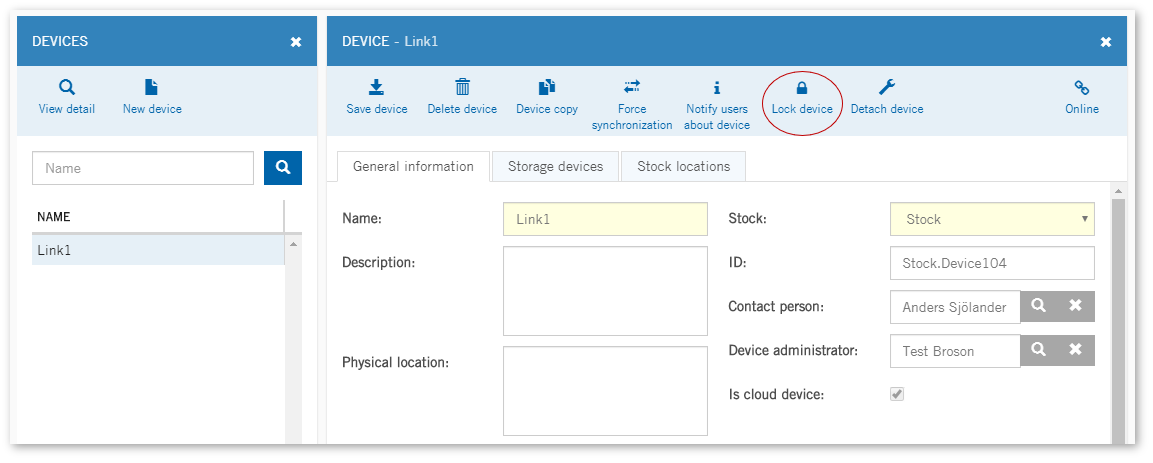 Once the locking is successful the status of the device is changed to Locked and users cannot access this device through the SFI application.
To unlock a locked device, press the Unlock device option in the device detail. The status of the device is changed to Waiting for unlock and synchronization is requested. When finished, the device status is changed to Connected and the device is returned to the accessible state.