For Admin Portal version 1.26 or higher
Quick navigation: Order lists > Scheduled scripts
Scheduled scripts
Scheduled scripts are used to determine when an item should be ordered or sent for service. The setup consists of time, order level and which devices or stock should be considered. When a scheduled script is run it creates a purchase order or a service list. Those orders and lists are exactly the same as if you had created them manually, the benefit being that the system orders what's needed every day without the need for an operative to manually order.
Overview
In the first view, you can see whether a script is active, what type it is and the last time it ran. All scripts are editable and can be changed at any point. Simply double-click, or select one row and click on View details, to edit an already existing script. The script will open in a new window to the right.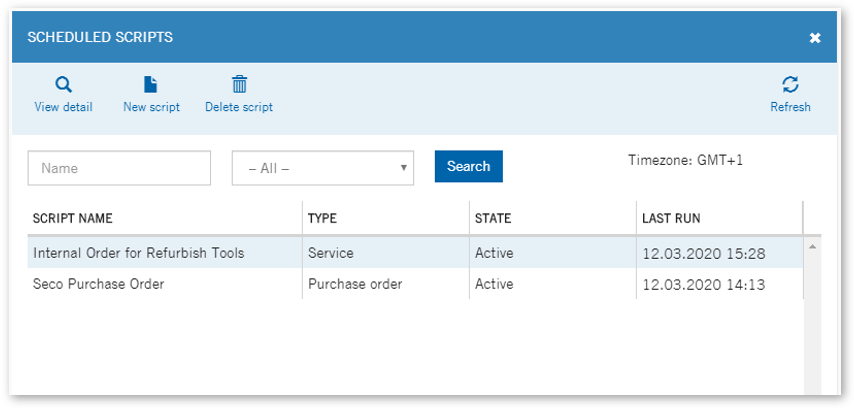 Create a new script
To create a new script click on the New script icon. The new script windows will show on the right side. All the yellow marked fields are mandatory. The script name should describe the purpose of the script, i.e for which vendor it's for and whether it's a purchase order or a service.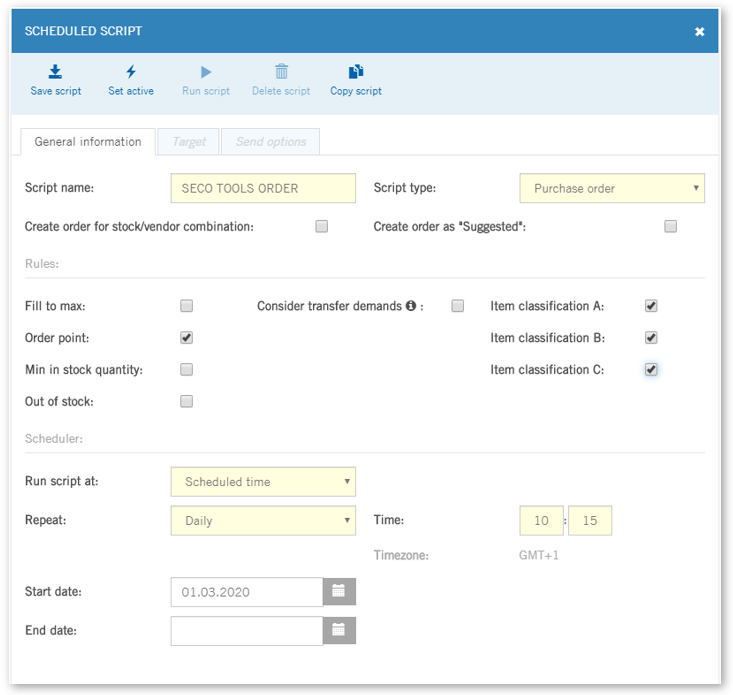 This script above is called SECO TOOLS ORDER and is a purchase order. It will look for every item that's At or below the Order point. We want to include all the classes of items. It may be you like to order Items with classification A more often than B and C, so you would then create a separate script for those.
Decide when the script should run, either per Scheduled time or per Interval. In our example we choose Scheduled time since we want to order daily at 10:15. Select Start date and if necessary an End date. If no End date is provided will the script continue to run every day till you set it to be Inactive or delete it.
Click Save script and go to the Target tab.