A step by step guide to assigning a tool physically into your cabinet, using the Shop Floor Interface
1. Log into the SFI. Please note you will need permission to assign items, which is automatically present if you are added as an administrator in the user list. A guide to user management is here.
On reaching the home screen, please select Stock Management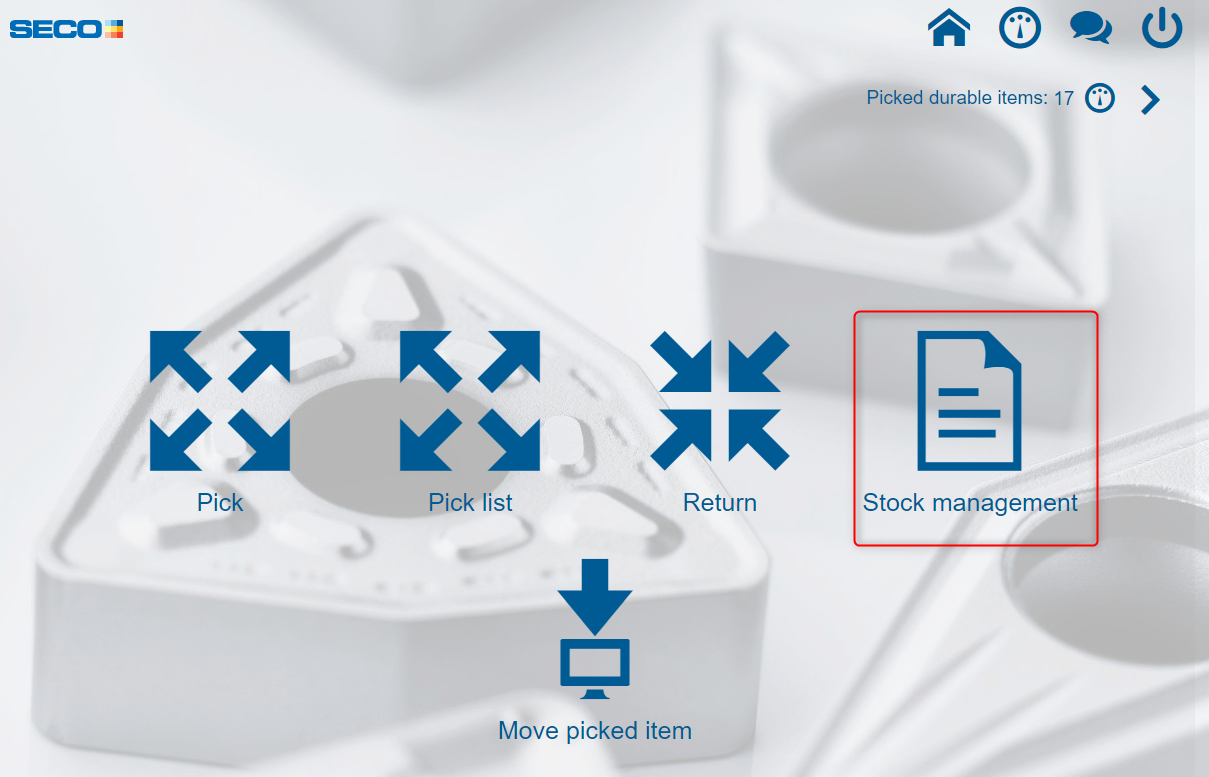 2. Select Assign item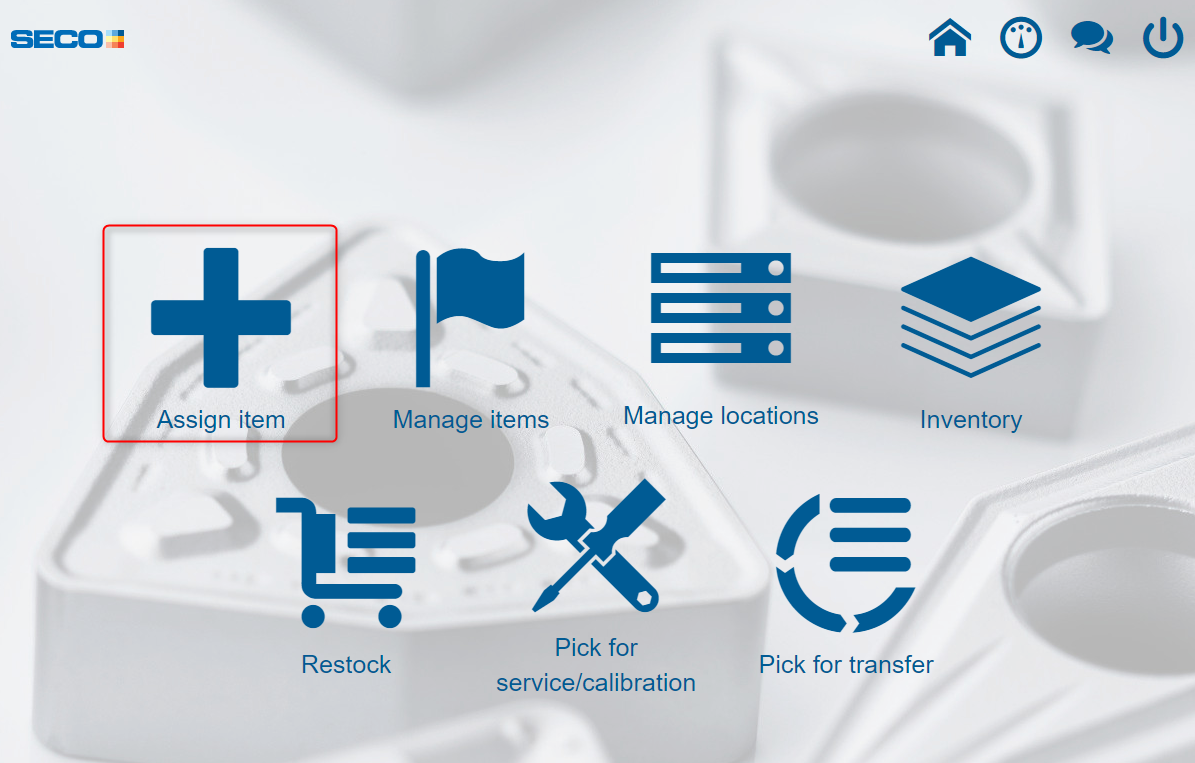 3. You will now be offered a list of available items to assign. Please note that no items will show here until they have been 'released' to the Shop Floor Interface and made available to pick and load. A guide to setting item status can be found here (please ask, not yet linked)
Pick the item you wish to assign.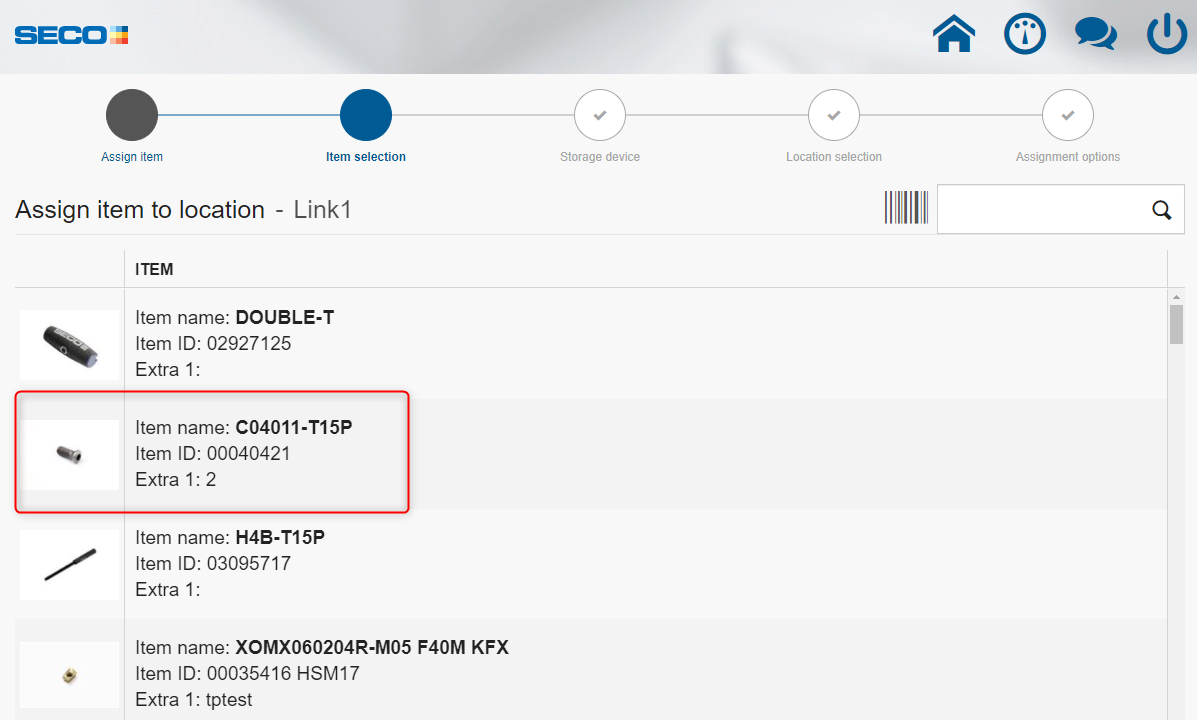 4. You will be offered a choice of storage devices (if you have more than 1). Pick the one you wish to use.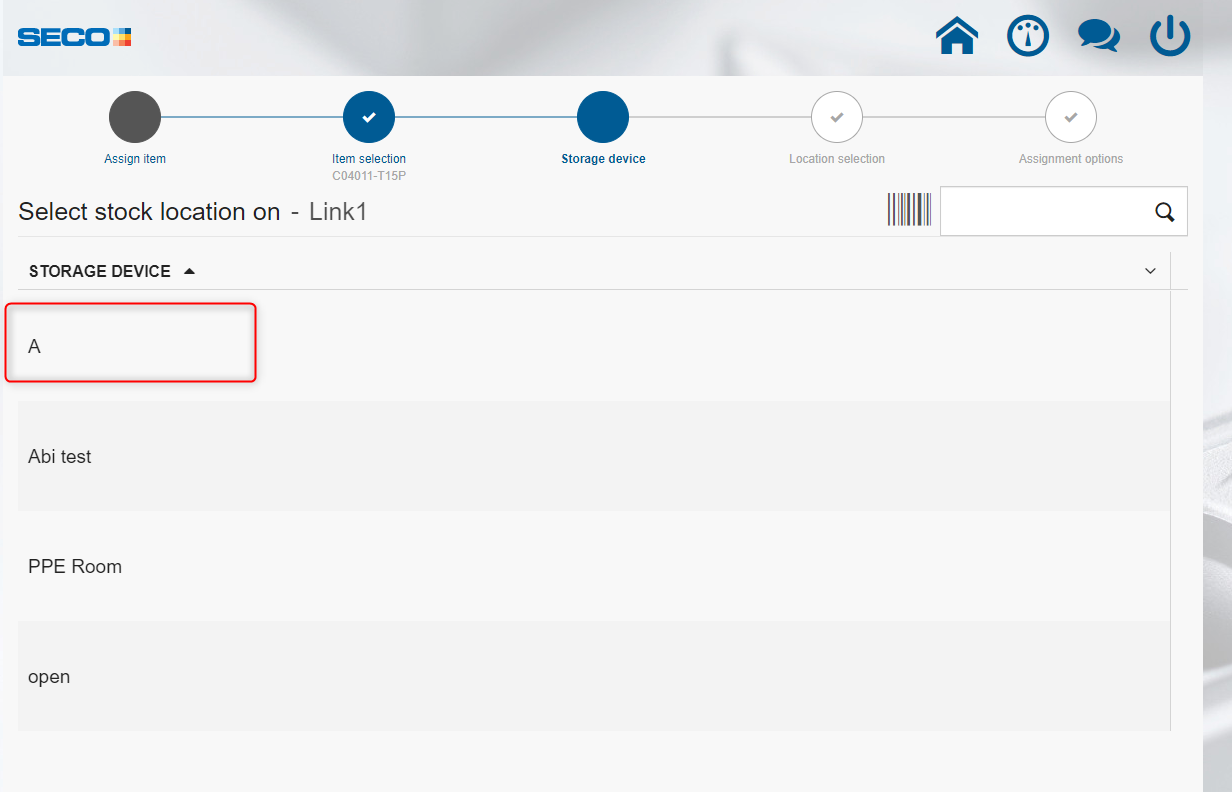 5. Once your storage device is selected, you will then select which location you wish to use. You can pick one from a scrolling list, or you can click on Show empty locations to cut down the list to the locations that are free.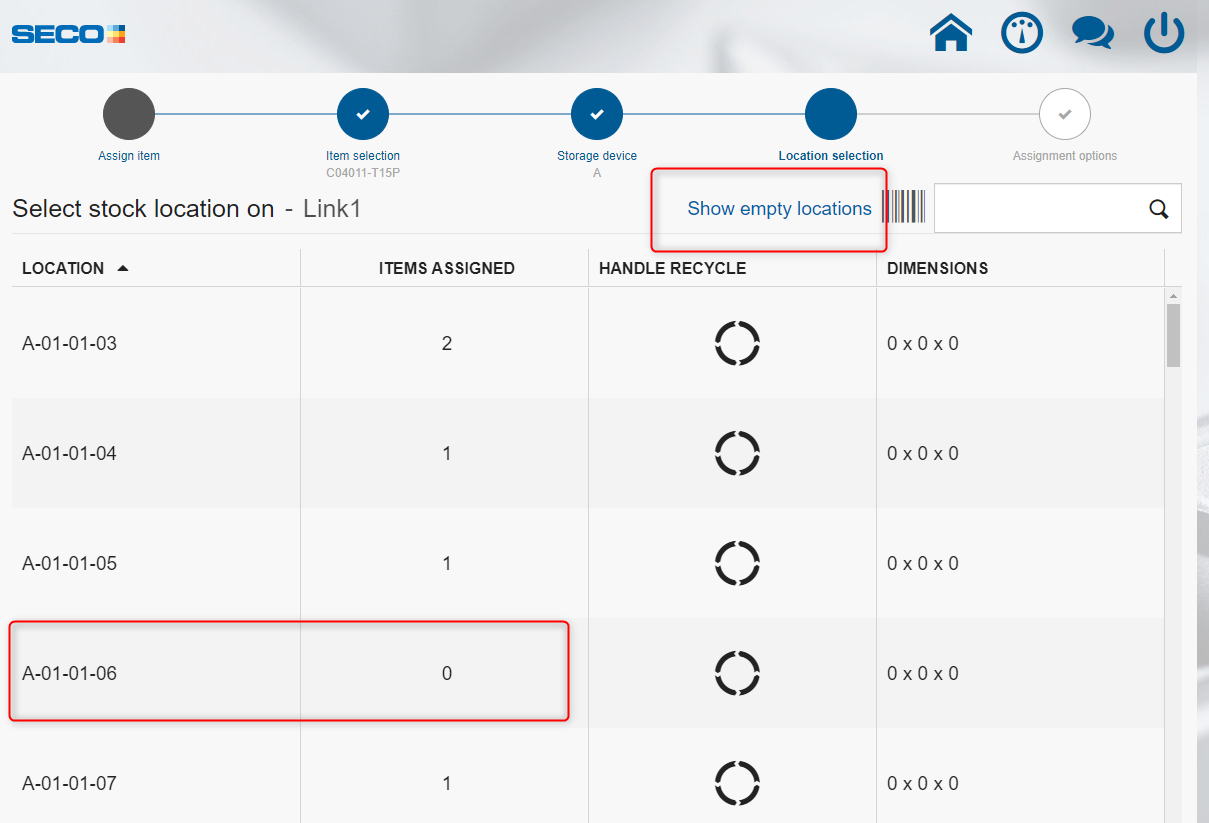 6. Pick your location and fill in the quantities.
LOCATION ASSIGNMENT (refers to this specific location)
Physical Max Quantity = the maximum that location will ever hold (could be by capacity or just user choice)
Quantity = the actual amount you are assigning, right now, to this location
DEVICE ASSIGNMENT (this refers to ALL cabinets attached to this device (the computer link and its physical cabinet and any extensions)
Max Quantity = the amount that the entire device will hold, so if you have 10 in each of 10 different locations then you would put 100
Order point = the level at which you want the device to re-order, back up to the max quantity above. Please note that we do not recommend you set this at your minimum stock, rather that you set it a little above that so it keeps your supplies topped up.
Once filled in, please click on Place items
You will be prompted to open the location, place the items and then shut the location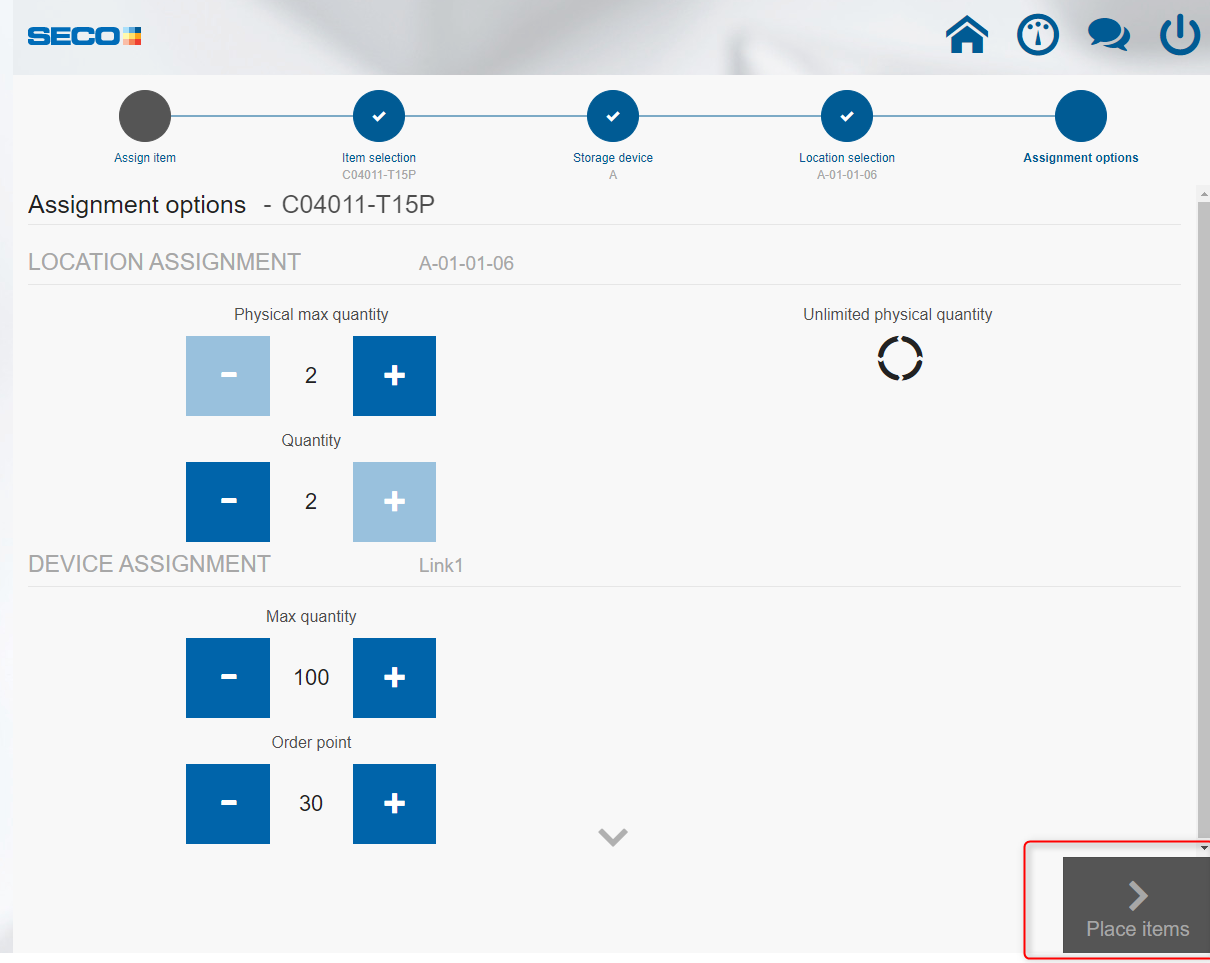 7. If your device maximum is more than you have already placed then the cabinet will ask you if you wish to assign the same item elsewhere. Otherwise, if you wish to go on to assign another item, click Assign item on the bottom right. Or click on the home button to return to the starting screen.